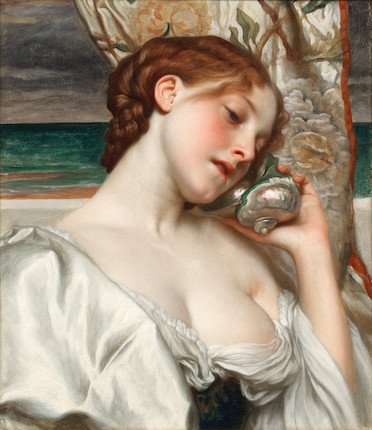 Frederic, Lord Leighton, PRA
(British, 1830-1896)
Sea Echoes
29 March 2023, 14:00 BST
London, New Bond Street
Ask about this lot
Peter Rees
Director, Head of Sales
Frederic, Lord Leighton, PRA (British, 1830-1896)
Sea Echoes
oil on canvas
51.5 x 44.5cm (20 1/4 x 17 1/2in).
Footnotes
Provenance
W. Gillilan; his sale, Christie's, London, 15 May 1925, lot 121 (bought Sampson).
H. Nelson; his sale, Christie's, London, 17 December 1937, lot 15, titled Music of the Sea (bought Mitchell).
Anon. sale, Sotheby's, London, 27 January 1960, lot 148.
Private collection, UK (acquired from the above).
Thence by descent.

Exhibited
London, Royal Academy, 1862, no. 494.
Dublin, Irish International Exhibition, 1907.

Literature
Mrs Russell Barrington, The Life, Letters and Work of Frederic Leighton, two volumes, London, 1906, pp. 87-8.
Ernest Rhys, Frederic Lord Leighton London, 1898, p. 16.
L. & R. Ormond, Lord Leighton, London, 1975, p. 154, cat. no. 81.

Leighton's beautiful and sensuous painting Sea Echoes shows a young woman holding a sea-shell to her ear so as to try to hear, or to imagine that she might hear, the sound of waves breaking on the shore. The woman wears a garment of white satin over her shoulder, while her head rests against an embroidered or printed drapery showing luscious white peonies and their stems and leaves. The background of the composition shows a sea-shore and a deep green-blue expanse of ocean, with ominous dark clouds indicating an incoming storm. The model is a woman whose distinctive golden hair and pale complexion and blue eyes are seen in a number of Leighton's paintings of the early 1860s, such as Odalisque (Private collection) and Girl with a Basket of Fruit (Eucharis) (Private collection), shown at the Royal Academy in 1862 and 1863 respectively. It may tentatively be suggested that the person represented was one or other of Leighton's two sisters, Alexandra and Augusta, as there is a distinct family likeness in the physiognomy.

The present painting came from a phase of the artist's career when he was striving for a new and personal style. He had first exhibited at the Royal Academy in 1855 when he showed Cimabue's Madonna (Royal Collection), a painting which was met with great enthusiasm, and which was bought by Queen Victoria. However, his subsequent exhibits of narrative type were met with indifference. In 1859 he established himself in London (having lived previously in Germany, Italy and France), and began to explore a type of thematic figurative composition from which the story-telling element was excluded but which instead depended purely upon mood and the elegance of physical type. This was a form of art of a sensuous kind which had been treated previously by French artists among them painters familiar to Leighton from the years that he had lived in Paris in the late 1850s, but which was at first regarded with suspicion by critics and fellow painters in London. Sea Echoes, painted we may assume in circa1861 and exhibited for the first time in the summer of 1862, and in which there is no indication of the circumstances or situation of the young woman represented, is one his very early experiments in this modern style of painting.

Sea Echoes may therefore be seen as a product of the artistic movement which has come to be called Aestheticism and for which the theoretical basis lay in German and French art. Leighton sought to conjure sympathy for the experience of the person represented by inviting the spectator to imagine his or her response to their situation or setting. In various paintings of the 1860s he introduced the motif of imagined sounds which might be seen to prompt reflection or indicate mood. In paintings such as Duett (Royal Collection), Rustic Music (Leighton House Museum) and Golden Hours (Private collection), all from the 1860s, he showed figures transported into a realm of delight by the action of making music, or by listening to it, while still more remarkable is the subject Lieder ohne Worte – 'Song without Words' (Tate), of 1860-61, where all appears to be silent and static except for the imagined song of a blackbird. In its reference to sound, Sea Echoes is explicit, but at the same time fanciful. The painting is intended to give pleasure to the viewer by means that represented a radical departure from the solemn realities and portentousness of much the art of a previous generation of British painters.

Leighton had been trained in a European academic method, and once again Sea Echoes may be seen as dependent upon the artist's formative experiences in France and Germany. It was his practice to make preparatory chalk and pencil drawings from the nude and draped model. Studies would then follow which would establish the overall format of the intended composition and determine how the figure would be placed. However carefully this process of preparation was undertaken, when once he was ready to work in paint on canvas, Leighton had the skill and confidence to work in a way that was naturalistic and unstilted, with rich colours and freedom of handling that makes the whole thing fresh and spontaneous. The flesh tones and the texture and colour of the woman's hair in Sea Echoes are beautifully captured and appear translucent in the light of the sun. The fabrics of the model's dress and the floral hanging are richly given in paint, whether in the ethereal and floating softness of the garment around her shoulders, arms and bosom, or the gorgeous ornateness of the floral hanging. The outcome is the representation of a languorous and eroticised female figure which is both sensuous and physically enticing.

Lastly, the painterly immediacy of the expanse of sea and cloud, and of the glimpse of sandy foreshore, is a reminder that Leighton was – in addition to his primacy in Victorian art in the sphere of figurative art – one of the great landscape painters of the nineteenth century. This was something he refined in plein-air oil sketches, and which were then the inspiration of the landscape elements in his figure compositions. In the present painting, the view of sea and dark clouds is particularly beautiful.

This is an important painting which has been untraced since 1960 and which has not appeared in any modern exhibition or publication. It is an important rediscovery and a painting which will take its place in the canon of Leighton's most innovatory early works and of the type of advanced paintings which transformed British art in the period of the Aesthetic Movement.

References
Leighton referred to the work in a letter to his father written at the time of its admission to the Royal Academy summer exhibition in 1862: 'Dear Papa, - I think I may confirm the report made to you of the success of my pictures [at the Academy]. Particularly the "Odalisque" and "Echoes" [the present work] (by-the-bye, I have just received a letter from somebody who wants to know if they are sold. What the papers say, you will have seen. You will be glad to hear that I have received congratulations on all sides, which gives me the idea of being tolerably secure; at all events, I got no such last year, nor indeed at all since the "Cimabue."' (Quoted Barrington II, p. 87) That same season, he wrote to tell his mother how his various works were displayed at the Academy: 'the shell girl' and another painting of his 'are just above the line and well seen'. (Ibid., p. 88).
Art Journal, 1862, p. 133: writing of the Royal Academy summer exhibition: 'Mr Leighton has never been so successful as in the smaller pictures now exhibited, since he painted his first large Florentine procession [Cimabue's Madonna].'

We are grateful to Christopher Newall, author of The Art of Lord Leighton, Oxford, 1990 and co-curator of Leighton, the exhibition which marked the centenary of Leighton's death, at the Royal Academy in 1996 (also co-author of the catalogue of the same exhibition) for compiling this catalogue entry.