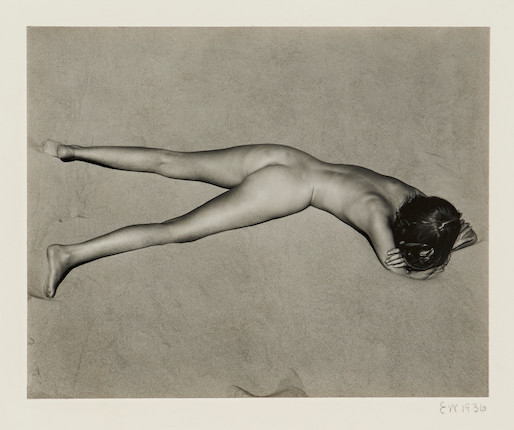 Edward Weston
(1886-1958)
Nude on Sand, Oceano
16 – 26 January 2023, 12:00 EST
Skinner Marlborough, Massachusetts
Sold for US$151,575 inc. premium
Own a similar item?
Submit your item online for a free auction estimate.
How to sell
Looking for a similar item?
Our specialists can help you find a similar item at an auction or via a private sale.
Find your local specialist
Ask about this lot
American & European Works of Art (Bonhams Skinner)
Edward Weston (1886-1958)
Nude on Sand, Oceano, 1936
Gelatin silver print, printed 1940s; initialed and dated 'EW 1936' in pencil on the mount, titled, signed, and dated 'Nude Oceano Edward Weston 1936' and annotated '237N '36' in pencil on the verso; matted and framed.
7 3/4 x 9 9/16 in. (19.7 x 24.3 cm)
sheet (mount) 14 3/8 x 15 5/8 in. (36.5 x 39.7 cm)

Footnotes
Provenance
1977, purchased from the Weston Gallery, Carmel, CA; by descent within the family to the current owner.

Literature
Amy Conger, Edward Weston: Photographs from the Collection of the Center for Creative Photography, Tucson, Center for Creative Photography, 1992, fig. 928.

Charis Wilson and Wendy Madar, Through Another Lens: My Life with Edward Weston, New York, North Point Press, 1998, p. 105.

Charis Wilson, Edward Weston: Nudes, Millerton, New York, Aperture, 1977, p. 85.

Brett Abbott, ed., (Newhall, Nancy and Edward Weston), Edward Weston's Book of Nudes, Los Angeles, J. Paul Getty Museum, 2007, pl. 30.

Merle Armitage, ed., Fifty Photographs: Edward Weston, New York, Duell, Sloan and Pearce, 1947, pl. 19.

Gilles Mora, ed., Edward Weston: Forms of Passion, New York, Harry N. Abrams, 1995, p. 216.

N.B.
Edward Weston first photographed in the sand dunes of Oceano, California in 1934 with fellow photographer Willard Van Dyke. At the time he was employed by the Public Works of Art Project in Los Angeles photographing works of art as part of a New Deal program to employ artists and Oceano was a stop along the route to his home in Carmel. During these first visits to the dunes, he made only a handful of negatives. Enamored by the landscape, he vowed to return for an extended trip and did so in 1936 with Charis Wilson, his muse and future spouse.

With the objective of photographing the seemingly endless expanse of sand dunes, they set off early each morning with a large-format view camera and film holders in tow, carefully traversing the landscape to minimize impressions in the sand from their tracks. In her memoirs, Wilson recalls exclaiming to Weston "Down that way, the dunes are endless. You'll never run out of subjects." With the wind creating an everchanging landscape, Weston made dozens of photographs that would become some of his most celebrated landscapes.

As the day continued and the temperatures increased, Wilson recollects "I thought it was time for a sunbath. I called to Edward, who was working on a higher ridge and across a small valley from me, to alert me if someone approached, then I stretched out on the side of a bank where my footsteps coming and going had created a narrow shelf. When I next looked around, the camera had moved to the near side of the ridge and was aiming down at me" (Wilson and Madar, 108-112).

The extraordinary session resulted in the creation of approximately ten photographs that are Weston's most important Modernist nude studies. From his earliest days as a photographer, Weston made nudes that focused on form and by eliminating personal effect, universalized the sitters. The series he made with Wilson in Oceano is an early example where Weston incorporated the landscape in the composition. Wilson recalls, "All the dune nudes were whole figures and in all of them the patterning of the surrounding landscape was an important part of the picture. The nudes to come would follow this lead—no more 'bits' and 'pieces' only whole people in real places" (Wilson, 13).

The photograph offered here is the view that Weston considered the most successful of the session. Weston authority Amy Conger references the elegance of her fingers, the black line that her shadow creates to outline her figure, and the absence of individual features that separate it from the realm of portraiture as formal qualities that would have appealed to Weston. In 1937, he sent a print to fellow artist Charles Sheeler, who celebrated the photograph by stating it is "one of the outstanding photographs in the field for me" and compared the print to The Grande Odalisque by Ingres (Conger, 928).

Prints of this image are in many prestigious public collections including the Museum of Modern Art, Metropolitan Museum of Art, Art Institute of Chicago, Los Angeles County Museum of Art, among others. The print is in wonderful condition and is mounted, initialed, and dated on the front and titled with a full signature on the back of the mount.