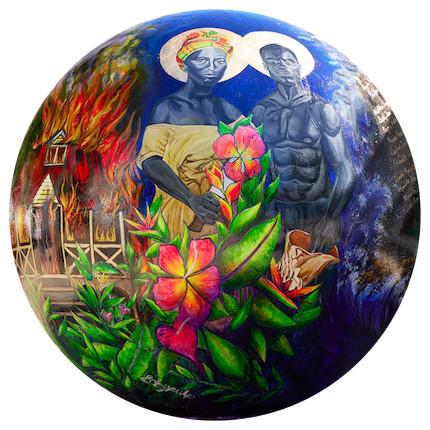 Fiona Compton and Hailey Gonzales
(Saint Lucia)
Fury And Fire
17 – 25 November 2022, 17:00 GMT
London, New Bond Street
Own a similar item?
Submit your item online for a free auction estimate.
How to sell
Looking for a similar item?
Our African Modern & Contemporary Art specialists can help you find a similar item at an auction or via a private sale.
Find your local specialist
Ask about this lot
Giles Peppiatt
Group Head, Fine Art, U.K
Sophie Blower
Sale Coordinator
Fiona Compton and Hailey Gonzales (Saint Lucia)
Fury And Fire
fibreglass, acrylic paint and varnish
140 cm (diam), base: 28 x 137 x 137 cm
Footnotes
A journey of resistance, we tell the story of the revolution in Saint Lucia. Hundreds of enslaved men, women and children unified in defense of their freedom, fighting against the system of British slavery. So strong was this unified resistance, that many freedom fighters joined their comrades on neighbouring islands in solidarity; several islands in the 1790s were ablaze with the fire and fury of freedom. Vastly mountainous and filled with emerald rainforests, during the revolution of the 1790s, Saint Lucia's enslaved community rose up in revolt, forming a community of self-liberated African and Caribbean born people who lived in secret enclaves in the impenetrable forests. Called the N èg Mawon, these men and women fought fiercely and heroically in the face of the British army, who tried to suppress, pacify and re-enslave them. 'Liberte ou la mort' (Liberty or Death), was the call of the N èg Mawon, as the conch shell blew across the mountains, and the British Army was defeated under the fire and fury of the N èg Mawon. Enslavement and sugar were the incentives for the British to reinvade Saint Lucia after many months of celebrated freedom, and many men, women and children who fought for their freedom were taken as prisoners of war to Porchester Castle, Portsmouth. Some died along the way in the murky waters of the British coastline – their souls carried home by ancestral spirits. Today we honour the N èg Mawon; their fire, fury and fight for freedom. The globe was created as a collaboration between two Saint Lucian artists – Hailey Gonzales and Fiona Compton.

Fiona Compton is a London based Saint Lucian photographer, artist, filmmaker and historian. After graduating from London College of Printing in 2005 with a BA in photography, Fiona has been working as a professional photographer, working for the UK's largest publishing houses, travelling between the UK and Europe to photograph some of the most influential figures in the world of Finance and Banking. Over the past 13 years her work has explored the various disparities in representation of the Afro Caribbean diaspora within art and mainstream media. In 2017 she launched her multi disciplinary project 'The Revolution of the Fairytale' which celebrates lesser known heroes from Black History under the nostalgic platform of well known fairy tales. Fiona remains a strong advocate for her history and culture and is an Official Ambassador for London's Notting Hill Carnival, the second largest street festival in the world.

Hailey Gonzales is a female, contemporary artist from the lush, mountainous island of Saint Lucia. Painting, videography, and illustration are some of the mediums she uses to express emotions of heartbreak, separation, suffering and happiness. Inspired by Jean-Michel Basquiat, Gustav Klimt and Jenny Saville, her compositions consist of the rich colours, precise tones and detailed shading that provide depth, realism, and profound emotion.

Some of Gonzales' work includes "Cutting the Umbilical Chord". The inspiration behind this composition was to reflect the godly and royal disposition of a black woman even whilst she is enduring emotional chaos. Gonzales aims to stage her solo exhibition called 'Musa's Diary' focused on issues including migration, abortion, and change.