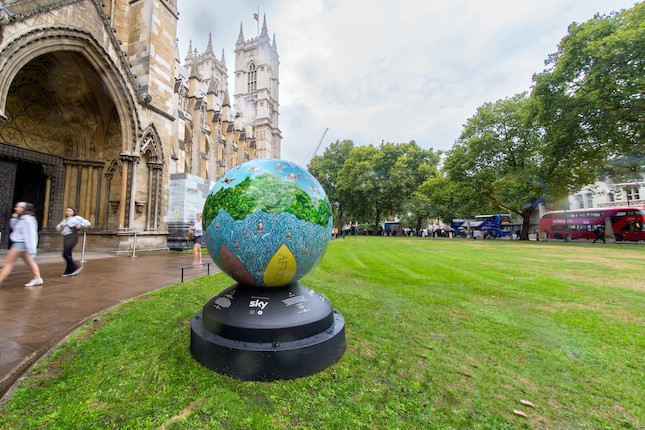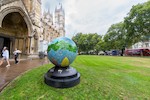 Nicola Green
(British, born 1972)
The World In A Waterlily, Amazonica
17 – 25 November 2022, 17:00 GMT
London, New Bond Street
Own a similar item?
Submit your item online for a free auction estimate.
How to sell
Looking for a similar item?
Our African Modern & Contemporary Art specialists can help you find a similar item at an auction or via a private sale.
Find your local specialist
Ask about this lot
Giles Peppiatt
Group Head, Fine Art, U.K
Sophie Blower
Sale Coordinator
Nicola Green (British, born 1972)
The World In A Waterlily, Amazonica
fibreglass, acrylic paint, vinyl, gold leaf, diamond dust and varnish
140 cm (diam), base: 28 x 137 x 137 cm
Footnotes
My globe represents the deep-rooted connection between racial justice and climate justice - two of the most urgent issues of the twenty-first century. It is widely accepted that there is an intrinsic connection between the historic oppression of people, and the exploitation and plunder of the world's natural resources. My globe is enveloped by the Guiana Shield; one of the largest remaining intact rainforests on earth, a protective sanctuary between heaven and earth, the difference between life and death. Above the rainforest, atop my globe, the sky is bursting with black and brown angels embellished with 24 karat gold. Beneath the forest is the sea and a map which reimagines the world as a water lily. My globe's theme is the last stage on The Journey of Discovery. I hope that as we work together to recognise our shared history of the Transatlantic Trade in Enslaved Africans, my artwork will serve as a reminder that harnessing the possibilities of our future rely on us acknowledging how that history has shaped our present. My globe ultimately represents hope. We are still blessed to have the opportunity to preserve the Guiana Shield, the 'lungs' of the earth, and all the wonderful secrets it holds.

Nicola Green is a critically acclaimed artist, social historian and public speaker. Green has established an international reputation for her ambitious and insightful projects that can change perceptions and challenge prevailing narratives of identity, power, leadership, race and gender. Green has a unique perspective, driven by her belief in the capacity of the visual image to communicate important human stories. She chooses to assume the role of 'witness' to momentous occasions taking place across the globe, and creates and preserves social-cultural heritage for future generations. Green gained global recognition for her seminal project In Seven Days.... which resulted from her unprecedented artistic access to Barack Obama's 2008 Presidential campaign. With a front row seat to historic events, Green created a complex visual legacy of this moment in history, which constantly evolves in its dialogue with the future Green's project, Encounters, was a ground-breaking exhibition of over fifty portraits of the world's most prominent religious leaders. A global story, it is unique in its depiction of the world's major religions together for the first time in art history and without hierarchy. Sitters included Pope Francis, the Dalai Lama, Archbishop Desmond Tutu, Archbishop of Canterbury Justin Welby and Pope Benedict XVI. Green is dedicated to social impact and has worked tirelessly towards creating positive change and equality in the artworld and beyond. Green co-founded and directed the Diaspora Pavilion at the 57th Venice Biennale, showcasing 22 artists from culturally diverse backgrounds. Green also founded the Khadija Saye Arts programme at IntoUniversity which addresses the issue of BAME representation in the creative industries. As co-founder of Sophia Point Rainforest Research Centre, Green has championed the preservation and exploration of the Guiana Shield, the largest remaining pristine rainforest on earth. Green has mentored many aspiring young artists and is the Patron of Women in Art.