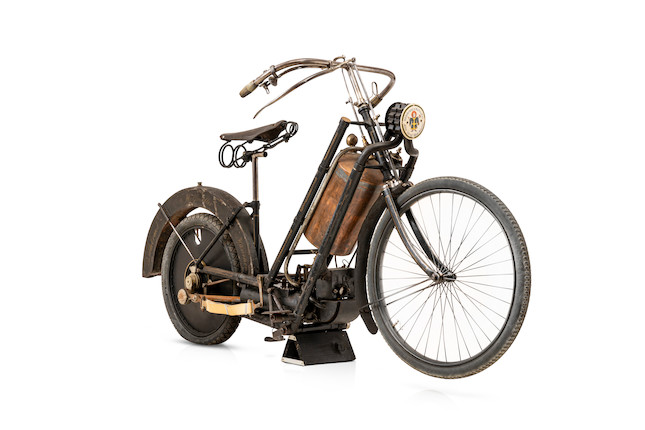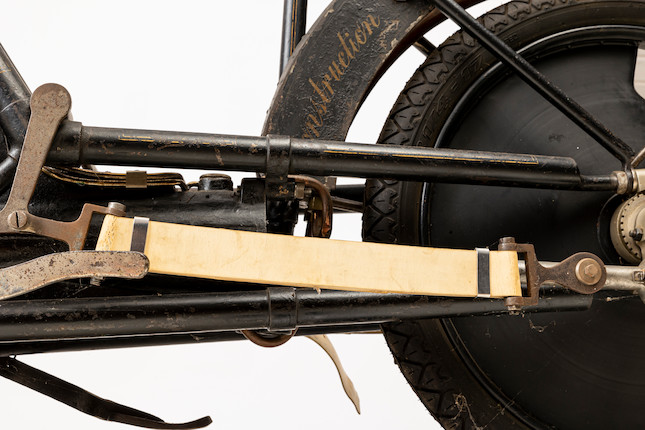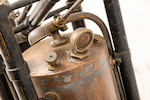 1894 Hildebrand & Wolfmüller
Frame no. 619 Engine no. 69
Amended
1 February 2023, 18:00 CET
Paris, The Grand Palais Éphémère
Sold for €195,500 inc. premium
Own a similar item?
Submit your item online for a free auction estimate.
How to sell
Looking for a similar item?
Our Motorcycles specialists can help you find a similar item at an auction or via a private sale.
Find your local specialist
Ask about this lot
Ben Walker
Department Director
Andrew Barrett
Junior Specialist
1894 Hildebrand & Wolfmüller
Frame no. 619
Engine no. 69
Footnotes
• An example of the first ever series production motorcycle

• Reputedly the earliest numbered example in existence

• Presented in wonderfully untouched condition

There had been steam-driven 'boneshakers' on both sides of the Atlantic in the 1860s and, of course, Gottlieb Daimler's gasoline-engined Einspur of 1885, but the Hildebrand & Wolfmüller was the first powered two-wheeler to enter series production; indeed, it is the first such device to which the name 'motorcycle' (motorrad in German) was ever applied. (Although a true motorcycle, Daimler's was only ever intended as a test-bed for his high-revving internal combustion engine, and as soon as that was powerful enough he turned his attention to automobiles).

Like many of their contemporaries, the Hildebrand brothers, Heinrich and Wilhelm, began by experimenting with steam power before turning to a (two-stroke) gasoline engine, the latter having been developed in partnership with Alois Wolfmüller and his mechanic, Hans Geisenhof. The quartet's next design was a water-cooled, four-stroke parallel twin displacing 1,488cc, which until relatively recent times was the largest power unit ever fitted to a motorcycle. The Hildebrands were in the cycle business so their new engine was mounted in a bicycle frame of the newly developed 'safety' configuration. When this proved insufficiently robust, a more integrated arrangement was devised, based on that of the Hildebrands' defunct steamer, and the name 'motorrad' registered for the new invention, which was patented in January 1894.

Steam locomotive practice was further recalled by the long connecting rods directly linking the pistons to the rear wheel, which opened and closed the mechanical exhaust valves via pushrods actuated by a cam on the hub. The latter contained an epicyclic reduction gear and there was no crankshaft flywheel, the solid disc rear wheel serving that purpose. Rubber bands assisted the pistons on the return stroke. Fuel was fed from the tank to a surface carburettor and thence via atmospheric inlet valves to the cylinders where it was ignited by platinum hot tube, as developed by Daimler. The box-like rear mudguard acted as a reservoir for the engine's cooling water, while one of the frame tubes served as the oil tank. The tyres, manufactured under license from Dunlop by Veith in Germany, were the first of the pneumatic variety ever fitted to a motorcycle.

Although modern in many respects, the H&W was primitive in others, most notably the brakes, which consisted of a steel 'spoon' working on the front tyre, the application of which automatically closed the throttle. The rider controlled the latter by means of a rotating thumbscrew; there was no clutch, which made starting an athletic procedure, the machine being pushed until it fired, whereupon its rider leapt aboard while simultaneously trying to regulate engine speed. Despite producing only 2.5bhp at 240rpm, the H&W was capable of speeds approaching 30mph, an exciting prospect at a time when powered road transport of any sort was still a novelty.

A patent for the design was granted in January 1894 and a new company formed in Munich: Motofahrrad-Fabrik Hildebrand & Wolfmüller. The H&W's announcement was greeted with considerable enthusiasm and plans were drawn up to build a factory on the Colosseum Strasse in Munich to produce it. In the meantime, numerous small workshops manufactured parts for the machine, which was also licensed to the firm of Duncan, Superbie et Cie for manufacture at its plant in Croissy, France where it would be marketed as 'La Petrolette'. Six Petrolettes were exhibited at the first Paris Motor Salon held in December 1895 and by 1896 some 50-or-so had been delivered.

Seeking to promote its new product, the company had despatched two machines to Italy in May 1895 to take part in a combined car/motorcycle race from Turin to Asti and back. Ridden by Wolfmüller himself and a local motoring enthusiast, Giovanni-Battista Ceirano, they finished in 2nd and 3rd places respectively, beaten only by a Daimler car. Despite this impressive performance the H&W's shortcomings were cruelly exposed in the next race, the prestigious Paris-Bordeaux-Paris event from which both retired at half-distance, and matters worsened still further once deliveries to paying customers commenced. The crudity of the hot tube ignition meant that starting was difficult and, once under way, progress was erratic because of the rear wheel's poor flywheel effect. Duncan, Superbie et Cie lost a court case against a dissatisfied customer whereupon many others promptly demanded their money back. Early in 1897 both the German and French ventures collapsed. Opinion differs with regard to how many machines were produced, figures ranging from as low as 800 to as high as 2,000 being quoted. Survivors are, needless to say, exceedingly rare though there are examples in some important collections including the Deutsches Zweirad-Museum in Neckarsulm, Germany, the Science Museum in London, England, the Henry Ford Museum in Detroit, Michigan, USA and the Lower Rhine Motorcycle Museum in Moers-Asberg, Germany.

According to the Bühner family, this is reputedly the earliest numbered example in existence. Purchased from the prominent Spanish collector Carlos Garriga in January 1990, the example we offer is presented in wonderfully untouched condition, with the obvious exception of the tyres and bands, although one of the latter is perished and needs to be replaced. The machine is offered with two folders of printed and photographic material to include the 1990 advertisement and purchase receipt and a substantial quantity of fascinating marque-related literature (mostly in German). Representing a possibly once-in-a-lifetime opportunity this wonderful machine has to be the ultimate acquisition for the serious private collector or any museum devoted to the history of powered transport.



• Un exemplaire de la toute première motocyclette de production au monde

• Probablement le plus ancien numéro en existence

• Présentée dans un remarquable état d'origine

Selon la famille Bühner, il s'agit de l'exemplaire existant qui porte le plus ancien numéro connu. Acquise auprès de l'éminent collectionneur espagnol Carlos Garriga en 1990, l'exemplaire proposé à la vente se présente dans un superbe état d¹origine à l'exception des pneus et des bandes de caoutchouc dont une visiblement très abîmée doit être remplacée. La machine est offerte avec deux classeurs de documents imprimés et photographiques dont l'annonce de 1990 et le reçu de l'achat et une appréciable quantité de littérature intéressante concernant la marque (majoritairement en allemand).
Représentant sans doute une occasion unique d'acquérir une authentique ancêtre à deux roues, cette machine exceptionnelle ne peut être que le couronnement d¹une collection personnelle de qualité ou celle d'un musée dédié à l'histoire des moyens de transport.


It should be noted that these vehicles have either been on display in the museum or kept in store since Peter and Ulrike passed away. Their present mechanical condition is not known; accordingly, perspective bidders must satisfy themselves with regards to their condition, completeness, correctness, or otherwise prior to bidding.

On notera que depuis le décès de Peter et d'Ulrike ces véhicules ont été maintenus en exposition dans le musée ou entreposés. L'état actuel réel des mécaniques est inconnu et les éventuels acquéreurs devront s'assurer par eux-mêmes de la condition, de l'intégrité, de l'authenticité et autres points relatifs à la qualité des machines avant de porter leurs enchères.
Saleroom notices
The frame number is 618.